10 Most Rare U.S. Silver Coins
Arguably the most interesting part of coin collecting of any kind, particularly U.S. silver coins, is the stories the coins tell in their usage and history. Going through the coins and currency used throughout the history of our country tells the story of America itself. This list covers the 10 rarest and most valuable U.S. silver coins today, based on an online search of their highest-quoted sales price. The prices indicated below apply to highly-graded coins in excellent condition. The most valuable coin is also the first coin ever minted by the U.S. government.
1884 Morgan Silver Dollar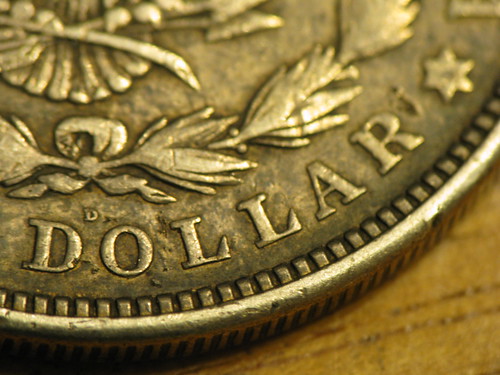 Opening the list of valuable coins is a coin minted in 1884, the Morgan Silver Dollar. The average or lesser conditions of these coins are relatively common and therefore don't carry much value. However, those in the certified mint state have garnered as much as $215,000 at auction, with current listings hovering around $100,000.
1817/4 Capped Bust Half-Dollar
Looking at the name of this coin, you will notice the strange nomenclature regarding the date. Minting coins was expensive, particularly purchasing new coin dies each year. The dies from previous years were reused to save money. Then the final digit of the year would be punched over the old one. This coin has a seven punched over the four, leaving the four partially visible underneath. This particular coin isn't valuable because it is an error, because it isn't. Rather, its value is tied to its extreme rarity. Only 11 of these coins have been found, with one pulling $282,000 at an auction in 2015.
1901 P Morgan Silver Dollar
Morgan silver dollars were produced in large quantities over the years, including 1901, which featured a minting of nearly 7 million coins. The coin itself isn't rare nor particularly valuable. However, those in mint condition are extremely rare, with MS-60s going for about $3,000. Less than 40 have ever been graded higher than MS-63, and only three of those MS-65 or better. The highest grade ever sold was an MS-66 that reportedly sold for around $575,000.
1893 S Morgan Silver Dollar
In 1871, the German Empire ceased minting silver coins, which caused demand (and thus the price) of silver to plummet. This led to the Coinage Act of 1873, which resulted in the country adopting the gold standard. Using only gold as money rather than gold and silver contracted the total money supply and deflated prices, leading to an outcry demanding the continued utilization of silver as money. Congress acquiesced and passed the Bland-Allison Act in 1878, which required the U.S. government to purchase limited amounts of silver to be made into coins.
From 1878 until 1904, the U.S. minted Morgan silver dollars. While the Bland-Allison Act helped, it did not satisfy the populists, and by 1890, the government started purchasing more silver for coinage, usually with gold and gold notes. This push from the populists and other factors led to a depression known as the Panic of 1893. All of these factors contribute to making highly graded 1893 Morgan Silver Dollars extremely rare. An 1893 Morgan Silver Dollar minted in San Francisco sold in 2014 for over $642,000.
1838 O Capped Bust Half-Dollar
In 1838, a new Mint opened in New Orleans, and coins carried the O designation. Part of the value for this coin is because it was a first of its kind minted in New Orleans. However, that same year, an outbreak of yellow fever in New Orleans also caused a significant decrease in the number of half-dollars minted there. There are only 13 known to exist globally, one of which sold in 2014 for just over $763,000.
1796 Draped Bust Half-Dollar
The 1796 Draped Bust Half-Dollar coin was the first U.S. half-dollar coin to deviate from the Flowing Hair design used on half-dollar coins. Only 934 were minted, with one selling in 2015 for $822,500.
1889 CC Morgan Silver Dollar
This coin is another whose rarity and value were impacted by the Bland-Allison Act. Like other Morgan dollars, these aren't particularly rare or valuable in most cases. However, mint-condition 1889 Morgans minted in Carson City are extraordinarily rare for some reason, with one selling in 2013 for $881,000.
1870 S Seated Liberty Dollar
Most of this particular coin's value comes from the fact that it simply should not exist. There are no records of this coin being minted in San Francisco. Also, there's no record that the dies for this coin were sent to San Francisco. So, by all recorded accounts, these coins should not exist, but they do — hence making it one of the most collectible and rare coins in the world. In 2003, one of these coins sold for nearly $1 million.
1797 Draped Bust Half-Dollar
Americans were not fond of the Flowing Hair design that adorned original currency, so in 1796, Congress commissioned a new design, which resulted in the Draped Bust coin. Those struck in 1796 and 1797 had a small eagle design as well. To complete a type-set, collectors must have either a 1796 or 1797 small eagle design, keeping these rare coins in demand. Highly graded coins from 1797 seem to garner the highest prices, as one sold at a May 2015 auction for just over $1.5 million.
1794 Flowing Hair Dollar
The main allure for this particular coin is that it was the first dollar coin the U.S. government ever minted. After urging by President George Washington to create a National Mint, the Coinage Act of 1792 was passed to do just that. The 1794 Flowing Hair Dollar was the first coin created two years later. Its scarcity, along with its historical significance, has made it the most valuable coin ever sold, with one fetching over $10 million in 2014.
The list above is more than just the 10 rarest and most valuable U.S. silver coins — it's a history lesson of the United States. Monetary policy changes, sickness, and political-based outcry all impact the rarity of these coins and the development of the country itself. Knowledge of rare U.S. coins is knowledge of the United States' history during that time.
For more information on rare U.S. coins, contact us at Americash Jewelry & Coin Buyers. You can reach us at 630-296-9883 or via our convenient online contact form.
Image via Flickr by frankieleon
Tags: coins, Silver, Silver coins