Rolex Buyer's Guide
If you could identify one watch brand that has become synonymous with sophistication and style over the decades, the name Rolex would probably come to mind. No matter what timepieces make up your collection, a Rolex watch makes a distinctive statement. If you're planning to purchase a Rolex watch but aren't sure where to start or what to look for, the following buyer's guide to Rolex watches will help you get started.
What Are the Signature Elements of Rolex Watches?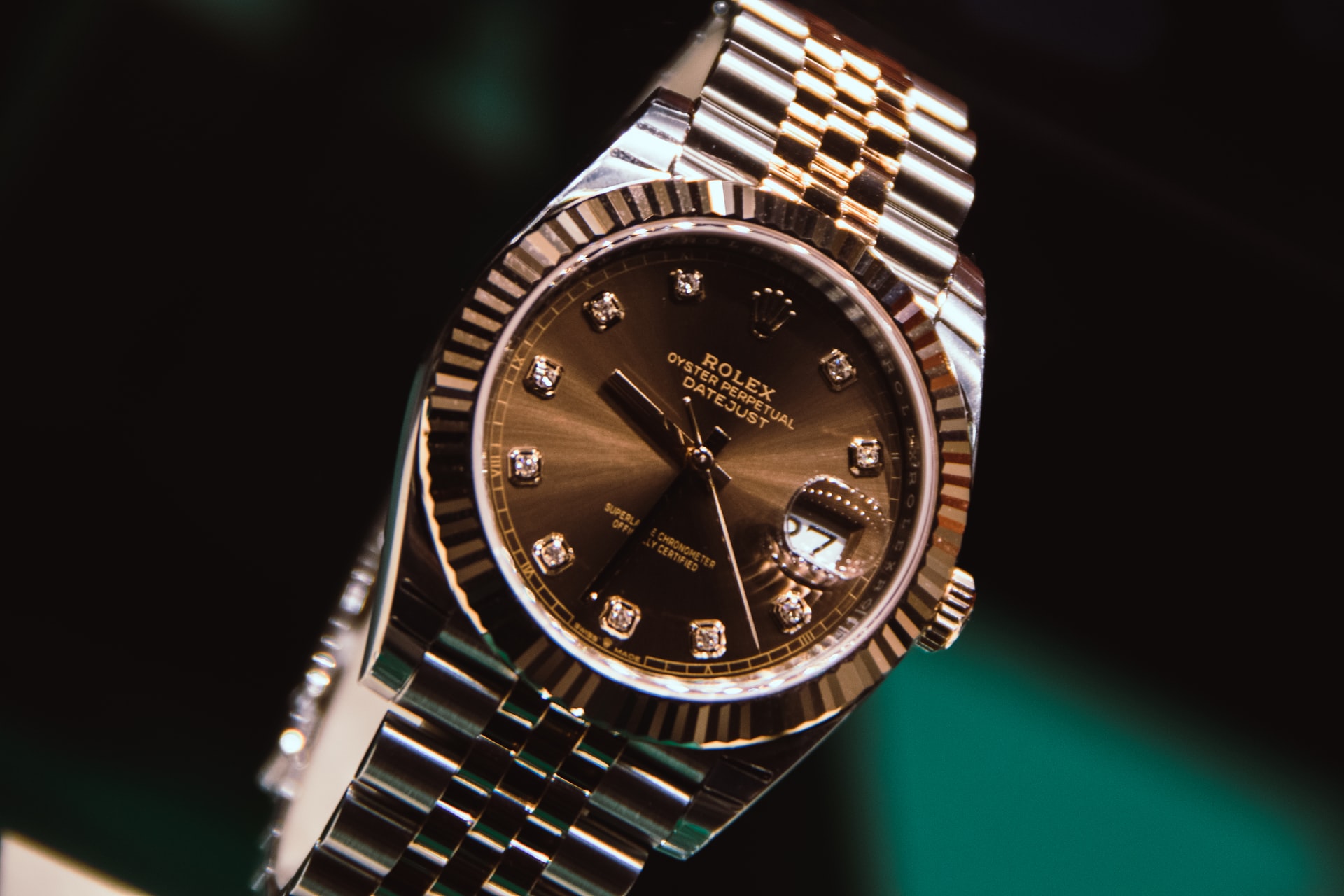 When you examine a Rolex watch, you have to admire the intricacy of its construction, movement, and distinctive design. All Rolex watches are composed of the following nine elements:
Oystersteel: This corrosion-resistant precious metal takes on a highly polished appearance.
Everose Gold 18-karat: This rose gold contains copper and silver.
Yellow Gold 18-karat: Rolex's proprietary alloy is a distinctive hallmark of the brand.
White Gold 18-karat: This material has high light reflectivity.
950 Platinum: The high-concentration alloy gets its strength from the addition of ruthenium.
Rolesor: Rolex's proprietary blend of Oystersteel and gold makes its appearance in the two-tone watch models.
Cerachrom: Rolex's scratch-proof ceramic stands up to the harsh effects of UV rays.
Precious stones: Diamonds are the most common precious stone watch additions.
Chromalight: Rolex's illumination turns blue at night and bright white during the day.
What Types of Clasps Do Rolex Watches Have?
Rolex clasps come in two forms: the Crownclasp and Oysterclasp. In the former, a secondary locking component folds over the main clasp to hold it in place. In the latter, the bracelet-style locking component almost disappears from view once it's secured.
Rolex's clasp extenders take the form of two names: the Easylink and the Glidelock. The Easylink allows you to expand the Rolex bracelet by 5 mm, while the Glidelock permits up to 20 mm of adjustment.
What Are the Styles of Rolex Watch Bracelets?
Rolex manufactures its watch bracelets in six distinctive styles:
Jubilee: The five-piece link design gives this Rolex bracelet style a sophisticated appearance.
Oyster: The three-piece link design creates a simple, sporty look.
President: Rounded three-piece links characterize this Rolex bracelet style.
Pearlmaster: Five-piece links in this design make a classy-looking statement.
Rolex leather bracelet: Available in various colors and leather materials, Rolex's in-house leather straps come with Oysterlock clasps and a pin buckle.
Oysterflex rubber bracelet: This bracelet design delivers comfort and style amid Rolex's signature attention-to-detail construction.
What Are the Types of Rolex Watch Bezels?
Rolex bezels take several forms, including plain style, fluted with precious metals, and engravings (featured only in the Explorer II and Cosmograph Daytona models). Rotating bezel designs can include Cerachrom inserts or precious metals, a feature exclusive to the Rolex Yacht-Master model.
What Are Some Signature Styles of Rolex Watches?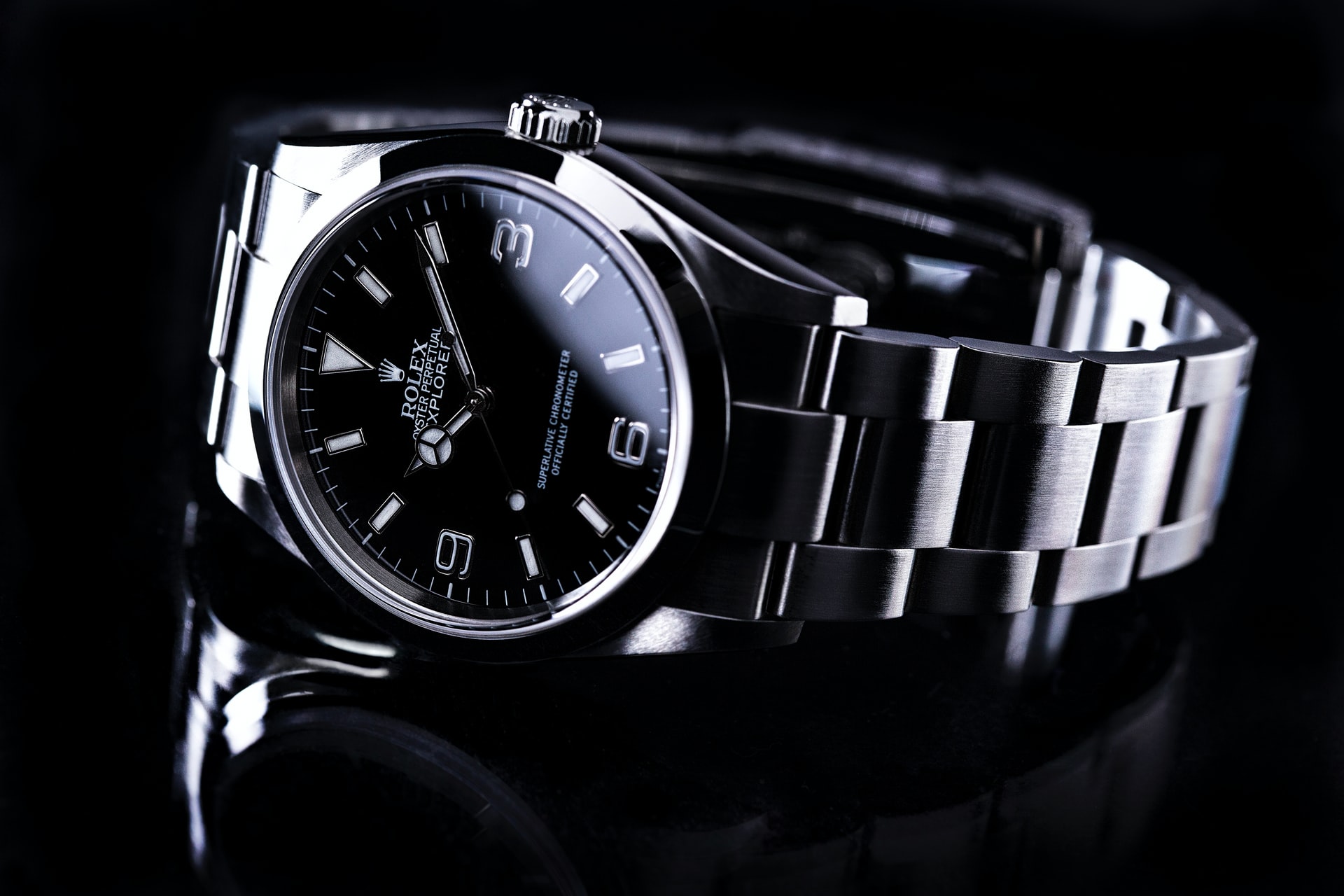 As you research styles of Rolex watches, you'll encounter several models, such as the Oyster Perpetual, Submariner, Explorer, and Sky-Dweller. Below, we explore several of the most recognizable models in the Rolex catalog.
Rolex Oyster Perpetual
As the world's first waterproof watch, the Rolex Oyster Perpetual watch made its introduction in 1926. Rolex constructed the watch's movement with a perpetual rotor that responds to the watch wearer's natural wrist movements to wind up the watch's mainspring. The signature waterproof case and automatic watch movement became indelible traits of the Rolex watch brand. Its stainless steel construction and the simplicity of its timekeeping ability make the Rolex Oyster Perpetual an ideal entry-level Rolex watch.
Rolex Explorer I and II
Created in 1953 to recognize the first recorded ascent to the summit of Mount Everest, the Rolex Explorer is one of the most distinctive Rolex watch models developed in the brand's history. This watch's design has remained virtually unchanged over the years, thanks to its time-only stainless steel construction, black watch dial, and Oyster bracelet.
The release of the Explorer II in 1971 introduced an independent 24-hour hand and upgrade to a dual and GMT timekeeping function.
Rolex Submariner
Introduced in 1953, the Rolex Submariner served as the world's first luxury dive watch. Created for scuba divers, the original Rolex Submariner contained a rotating bezel with 60-minute increment markings, a time-only dial, and stainless-steel construction.
Today, the Rolex Submariner Date model contains metals such as gold, steel, and two-tone steel and gold. The no-date Submariner model features stainless steel only and bears a black bezel and dial.
Rolex Day-Date
Introduced in 1956, the Rolex Day-Date watch features precious metals in its design. The dial carried a pair of calendar windows to display the day and date. This watch model is also known as the Rolex Presidential or President, a name that references the bracelet's styling. Several prominent individuals, including U.S. presidents, wore this watch style.
Rolex Sky-Dweller
Introduced to the Rolex brand family in 2012, the Rolex Sky-Dweller is available in three types of metal finishes, a 42 mm case, and a fluted bezel. Designed as a traveler's watch, this Rolex model has both an annual calendar and a second time zone display.
One of the unique features of the Rolex Sky-Dweller model is the movement's ability to adjust to month changes manually. The movement can distinguish between months with 30 and 31 days, although the wearer will still need to make manual adjustments to account for leap years with Feb. 29 dates.
How Should You Care for Your Rolex Watch?
To keep your Rolex watch looking its best, clean it occasionally using a soft cloth. Use soapy water and a soft brush to clean the watch case and metal watch bracelet. If you wear your Rolex watch daily, you don't need to wind it, but if your watch has been set aside for a few days and has stopped, wind it manually when you set the time and before you wear it.
Rolex's Oyster case design protects the watch from dust and water damage. To maintain its waterproof and dustproof quality, make sure you tightly screw down the watch's crown when you reset the time or wind the watch manually to create a tight seal.
Sell Your Watch in Westmont
In addition to this buyer's guide, you can find additional resources that can help you learn more about Rolex watches so that you can make an informed purchase. If you have a Rolex watch that you believe has value and are interested in selling it, contact Americash Jewelry & Coin Buyers. Get in touch online, or call us at 630-969-9600. We can also help if you have a Rolex watch – or watch of any brand – that's in need of repairs!
Tags: Rolex Watches, Watches