Westmont Pie You Can't Miss
At Americash Jewelry & Coin Buyer, we appreciate the finer things in life. Our community is full of restaurants offering delicious and indulgent foods, and pie might be at the top of that list. If you're craving some sweet and flaky pie, read on as we share our favorite spots to enjoy this classic dessert.
Toni Patisserie and Café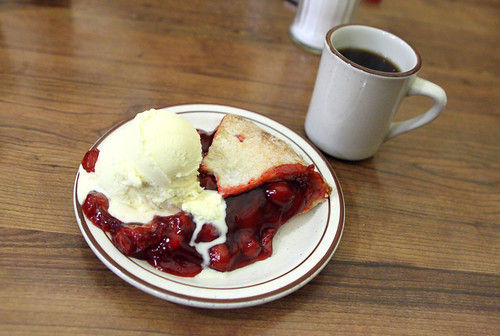 The delectable delights at Toni Patisserie and Café can be found at two locations: nearby in Hinsdale and also in downtown Chicago. You can start with a savory pie for lunch, but definitely save room for dessert. Pastry Chef and artist Toni Marie Cox formulates her recipes as a feast for the eyes and the stomach. With a BA in Fine Arts and a resume that includes opening the restaurant at The Disneyland Hotel in Paris, you can only imagine the scratch-made food that awaits your visit.
Savory options include a chicken pot pie with carrots, mushrooms, and peas in a creamy béchamel sauce topped with flakey puff pastry. Classic quiche flavors include Florentine with spinach, tomato, gruyere, and Swiss cheese and Lorraine with bacon, onion, Swiss, and gruyere. You can order quiche by the slice or buy a whole pie for a lovely brunch at home. The café also has single-serving desserts that vary by time of year, and you can always order a whole sweet pie or galette to take home.
Toni Patisserie and Café is open Monday through Saturday from 7 a.m. to 5 p.m. and Sunday from 7 a.m. to 3 p.m.
The Happy Apple Pie Shop
In nearby Oak Park, The Happy Apple Pie Shop serves delicious with a valuable social mission baked into each one. The first thing you might notice is the layout of the kitchen. Where many restaurant kitchens are small and hidden away, The Happy Apple is proud to have a wheelchair-accessible kitchen to accommodate employees of all physical and intellectual abilities. Founded by a special education teacher, the shop is inclusive and features delicious pies.
You can't go wrong with the signature namesake apple pie, but each week they feature at least two other varieties. You can check their Facebook page to see what's on the menu. Locals rave about the chocolate chess pie, and the bakers love to feature seasonal fruit for a buttermilk blueberry chess pie. Savory pies round out the menu, like a summer vegetable pot pie or a zucchini, tomato, garlic, fontina cheese, and Swiss chard galette.
The Happy Apple is closed Sunday and Monday. It's open 11:30 a.m. to 6 p.m Tuesday through Friday, and Saturday from 11:30 a.m. to 5 p.m.
Beatrix
Just a few miles away from Westmont in Oak Brook, Beatrix is open for breakfast, brunch, lunch, and dinner. It's famous for its two desserts: Oh My! Caramel Pie, featuring a tall shortbread cookie crust filled with caramel custard and served with whipped cream, and Tall, Dark, and Handsome Chocolate Cake, which, while technically not a pie, is a rich chocolate gluten-free dessert similar to a torte, tall enough for sharing and also served with whipped cream.
If you want to enjoy some savory fare before the dessert course, Beatrix has a full menu for each meal of the day. Breakfast and brunch start with fresh-squeezed juices, including a power greens option with kale, romaine, celery, pineapple, and mint.
Beatrix is open for breakfast Monday through Friday from 9 a.m. to 11:30 a.m., with weekend brunch hours extended until 3 p.m. Lunch starts at 11:30 a.m. and dinner starts at 4 p.m., which is served until 9 p.m. on Friday and Saturday, and 8 p.m. Sunday through Thursday.
Kirschbaum's Bakery
The traditionalist pie (and dessert) lover will appreciate the selections on Kirschbaum's Bakery menu. Located in nearby Western Springs, your first introduction to the delicious and traditional baked goods inside is with the yellow and brown sign at the front, in a beautiful, bold script. The bakery has been open since 1953 and is run by the 4th generation of the Kirschbaum family.
Pies are available in beloved traditional flavors like apple, peach, or cherry with crumb topping. You can up the decadence on your apple pie with a caramel topping. Traditional pastry flavors include apple, cherry, blueberry, peach, lemon meringue, and pecan.
When you come in to pick up your pies, other baked goods may tempt you from the cases. Rolls, garlic cheese bread, and poppy seed loaves are a perfect accompaniment to dinner on a cold winter night. Pastries like eclairs and kolocky are baked next to a wide variety of beautifully decorated cakes, smiley face cookies, and donuts. Sweet lovers will never be disappointed with Kirschbaum's selection.
Kirschbaum's is open Tuesday through Saturday from 7 a.m. to 5 p.m.
Hoosier Mama Pie Company
If you don't mind a bit more of a journey, Chicago's Hoosier Mama Pie Company is worth the trip. This artisanal bakery makes pies in the traditional way, with handmade pastry, the highest quality fillings, and a retro ambiance to match their delicious sweets. Before you visit, check their website for the "Start-of-the-day" pie menu, which means you might want to get there early for the best selection. You may find classics like apple, chocolate cream, and banana cream, or unique flavors like peach cheesecake swirl or Thai tea custard.
Savory options include chicken pot pie, a variety of quiche flavors like bacon and cheddar or ham and Swiss, and hand pies in mint, pea, and ricotta, sausage, or zucchini brown butter. Take some extra sweets to go in the form of cherry turnovers, hearty muffins, or iced oatmeal cookies.
You can enjoy your slice of pie in the secret back garden with flowers and a bubbling fountain Tuesday through Friday from 8 a.m. to 7 p.m., Saturday from 9 a.m. to 7 p.m., and Sunday from 9 a.m. to 2 p.m.
Is your mouth watering yet? We hope you've enjoyed our list of places to get delicious pie near Westmont. Did we miss your favorite spot? Feel free to contact us to add to the list. 
Image via Flickr by Sam Howzit